A range of a carrier-class GPON products for efficient and reliable fiber optic broadband access infrastructure.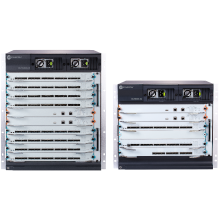 OLT8300 Series GPON OLT
The UTStarcom OLT8300 Series is a powerful modular chassis OLT system offering impressive switching capacity and up to 128 (OLT8300-08) / 64 (OLT8300-04) access GPON ports and large uplink capacity based on multiple 10GE ports. With modular design and high-density line cards supporting 16 GPON ports each, the series provides good flexibility and facilitates pay-as-you-grow models.
OLT8300 Series products comply to ITU-T G.984/G.988 and supports automatic discovery and interoperation with ONTs of different manufacturers for higher flexibility.
Operators can benefit from deployment flexibility and CAPEX savings thanks to the splitting ratio of up to 1:128, support of different types of ONTs, AC or DC power input options, all in a modular 9RU enclosure.
With multiple protection mechanisms including optical path protection, as well as with 1+1 power supply and 1+1 control board protection, the OLT8300 Series OLT system provides reliability and resiliency that can meet network operator's requirements.
High performance and deployment flexibility coupled with a comprehensive set of GPON, QoS, security and other features creates an optical access solution ideally suited for a number of applications including residential broadband access, high-density MDU deployments, community broadband access, mobile backhaul, e-commerce and other applications. 
Extra high performance

Modular chassis architecture

4Tbps backplane

Splitting factor up to 1:128 per GPON port

High reliability with 1+1 redundancy for critical components

Low power consumption
OLT8300-04
960Gbps switching capacity

Up to 64 GPON ports

Up to 48 uplink 10GE ports

9 RU
OLT8300-08
192

0Gbps switching capacity

Up to 128 GPON ports

Up to 96 uplink 10GE ports

12 RU