A range of a carrier-class GPON components for efficient and reliable fiber optic access infrastructure.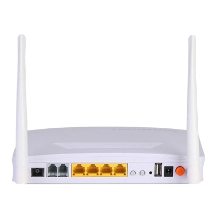 ONT4842W GPON ONT
Designed to deliver triple-play services to a subscriber in Fiber-to-the-Home or Fiber-to-the-Premises applications, the GPON ONT ONT4842W combines rich functionality and high performance with attractive design and reasonable price.
ONT4842W is compliant with ITU-T G.984 standard and supports 2.5G downstream and 1.25G upstream data rates over GPON interface to provide high throughput for rich multimedia content or traffic-intensive business applications. With integrated 4-port switch, high-performance Wi-Fi access point compliant with 802.11b/g/n (300M, 2T2R), Layer 2/3 features, and high quality VoIP, the ONT4842W provides an excellent cost-effective all-in-one solution for home or small business deployments.
Multiple operation, administration and management mechanisms supported by the ONT4842W provide high operational flexibility and help service providers to simplify deployment and minimize operation efforts through efficient centralized management. The product features support of standard ONT Management Control Interface (OMCI), TR-069, CLI, Web.
ITU-T G.984.x compliant GPON ONT
Data rate of 1.25Gbps/2.5Gbps (US/DS)
Wavelength: TX 1310nm, RX 1490nm

Triple-play services support

Integrated gateway with 4 GE ports

Integrated 802.11n Wi-Fi AP

Integrated Voice Service with 2 x PSTN interfaces

Compact design

Simple installation