Training services
You can have the best product, a sophisticated infrastructure, and the latest technology, but to thrive in today's marketplace, you need a highly-skilled workforce that is prepared to meet your business and operational objectives. Training is essential to creating and maintaining an effective workforce. UTStarcom can deliver training when and where you need it most - via the desktop, Internet, in the lab, in the field or in the classroom. The expertise of our course development and delivery specialists ensures that your learning program achieves targeted, measurable results.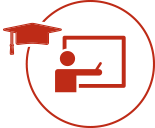 Blended training
As an alternative to training using single product types and delivery methods, we develop many of our packages using a blended training concept. Blended training involves a multi-faceted approach, using multiple types of training products, delivery and optimally information systems support. It actually begins with the development process; balancing the knowledge and skills requirements, appropriate training methodology and suitable delivery methods resulting in a mixed or blended training approach.
Customized Training
In today's day and age it's imperative to be able to mold a solution that best fits your customer's needs as network requirements vary from customer to customer and the "one size fits all" approach might not be feasible in every situation. We at UTStarcom fully understand this and have the capabilities and expertise to develop customized training courses that take into account your specific network, systems, resources, and capabilities.
Product Training Courses
Our individual training courses are instructor-led and include numerous web-based and hands-on lab exercises to ensure each student receives the most effective training possible. UTStarcom has a wide selection of different training solutions to suit your needs.
Find out the latest training courses available or receive details on upcoming events sponsored by UTStarcom Technical Training Solutions. Below you will find the most current training courses available. You may also download an outline in Adobe Acrobat PDF format.