Enterprise Solutions
Enterprise services are perhaps the highest ARPU generating applications for service providers. While most of the residential voice/data access is provided by service providers on the best-effort volume pricing model, enterprise services are characterized by strict SLA guarantees, service continuity as well as ease of access and management for customer's operations workforce. Given the dependencies of critical, real-time information transfer capabilities required for enterprise applications, customers need proven solutions, which carry recognized industry certifications indicating the chosen providers' capability to support secure and reliable connectivity across multiple locations.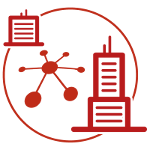 Products targeted for enterprise applications are expected to
handle very high-bandwidth traffic

guarantee SLA

ensure resiliency and reliability for high service continuity

support different enterprise services like E-Line, E-LAN, E-Tree

seamlessly interface with core MPLS network.
MPLS-TP / CE based Packet Optical Transport products provide an ideal platform for Enterprise applications. As more and more businesses rely on Ethernet-based equipment and services to meet their connectivity needs across locations, it becomes reasonable for service providers to use carrier-class Ethernet equipment to achieve high CAPEX and OPEX savings and provide optimal, future-proof solution to their enterprise customers. Enhanced through SDN-enabled automation and intelligent service provisioning, the UTStarcom's Packet Optical Transport product line provides excellent scalability and bandwidth efficiency for enterprise Ethernet services. The capability to transport other protocols including TDM and ATM allows service providers and enterprises to migrate their legacy networks in a seamless and phased manner without service disruptions.
Learn more about NetRing TN Series of Packet Optical Transport products.
Learn more about SOO Network – the Transport SDN products.